7 things to note before choosing your wedding bouquet

Whether it's picking an arrangement based on your gown or body size, to the art of floriography, you'll want to take down these nifty tips before going on the hunt for your bridal bouquet.
Pink peony, ranunculus, hyacinth and snow leaves.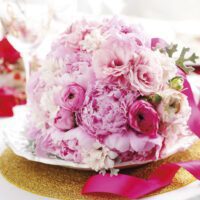 How to choose your wedding bouquet
1. Confirm your venue, type of wedding celebration, and the dress
The type of wedding you'll be having, and the dress you'll be wearing are essential to helping you pick the right bouquet. If you're big on wild flower arrangements then your dress can't have too many frills and details in front; choose a simple silhouette so it doesn't clash with your flowers. If your dress has intricate embellishments, pick a bouquet that doesn't cover too much of it.
2. Get the colour right!
If you're keen on an all-white bouquet, make sure it comes in a similar shade to your wedding dress for a perfect match.
3. Size matters
If you're a petite bride, opt for a posy or nosegay, so it doesn't overwhelm you. Similarly, if you're a tall bride, consider a cascading arrangement that complements your height. If you're bigger-built, a full and lush arrangement would be ideal.
4. Set a budget and stick to it
Flowers can get expensive so when planning your wedding budget, do your research and come up with a realistic amount. Ask your florist for advice as well.
5. Know your flowers
If you're big on symbolism, you may want to take note of the meanings of certain flowers. For instance, the dandelion represents faithfulness and happiness, while a pale pink rose signifies grace and joy. The gardenia means joy, and the hydrangea, perseverance. Similarly, you'll want to give these a miss: marigold, oleander and yellow hyacinth, which connote negative meanings. Search the Internet for a complete list.
6. Seasonal blooms
Get more bang for your buck when you pick blooms that are in season. Find out which ones are in season at different parts of the year, here.
7. There is no wrong or right
Big on bright arrangements? Bring it on. Love quirky, squiggly blooms that might look weird in classic bouquets? Don't worry. Each bouquet should reflect your personal preferences, although, you should also be open to suggestions from your florist!