2015 Wedding Trends: Hairstyles & Hair Accessories
Hair & Beauty

Bridal hairstyles are the expression of elegance and they are one of the center elements of your wedding appearance. When we are invited to formal parties, we choose elegant hairstyles, but when you're a bride, you need a hairstyle that makes both you and your wedding dress shine.
When it comes to hairstyles, women are rarely influence by trends. You will choose the style that suits you best. However, that doesn't mean that trends for 2015 hairstyles weren't already established. We are going to cover this topic and show you which hairstyles are up and about for the 2015 wedding season.
If you decide to choose a wedding dress which is reported as trending from the industry's giants, you will easily find the inspiration for your hair-do by analyzing the fashion shows for these collections. Since the majority of the wedding dresses that are trending this year are focused on simple lines, with fabrics that lack accessories and ornaments, many brides will be tempted to choose a minimalist hairstyle as well. This means that you can choose from many accessories that can enhance your overall wedding day beauty.
Why choose a tiara?
The first one of them is the tiara. Due to the fairytale appearance of the 2015 trending wedding dresses, the princess wedding dress is once again highly appreciated. Chignon buns at the neck line, fine curls or fantasy buns are perfectly suitable with a matching tiara. For the most conservative brides, there is also the option of choosing a headband decorated with accessories, like pearls or shiny stones. This style is extremely popular with brides that opt for a themed wedding, like the one from "The Great Gatsby".
Trend alert: flowers in your hair!
Amongst the 2015 wedding trends, one will also discover that flowers are an important hair accessory. Flowers can come in pastel color or they can be white, in vivid shades of pink, fuchsia, different shades of orange, etc. Flowers that adorn your hair will make you look even younger and fresher. They make your face glow, which makes you look happier than ever.
Braided hair vs. curls
Each year, braided hairstyles gain more and more popularity. In 2015, braided hair needs to stay simple, angelic and a lot more feminine. Complex braids have been replaced by the so-called Swedish style, which is a bandeau braided from your hair.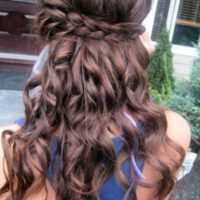 The golden age of Hollywood is back in the trends starting with 2015, because of fine curls with a perfect finish, just like Grace Kelly wore. Retro inspiration promises appropriate looks for brides that opt for simple dresses and classic evening-make up, with red lipstick and long eyelashes.
Bonus trend: hats
Another trend which comes straight from royal weddings is choosing a hat for the bride. Long time ago, brides that wore hats instead of veils were subject of a social code that showed people those women were at their second marriage or over 35 years of age.
Today, these norms were abandoned, lots of women opting for wedding hats simply because they look good and have that retro charm, specific cu Jackie Kennedy. Variations are endless: from hats with flowers to hats with ribbons and even feathers.