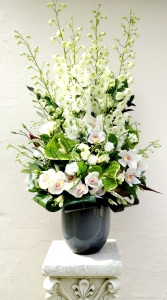 Flower Arranging Guidelines
1. Design: Look at your collection of flowers and accessories, and the type of vase to be used. Take into account the location and visualize the finished arrangement.
2. Balance: Step away from the flower symmetrical or asymmetrical arranging to check the color arrangement, the stability of the plants, and confirm if the arrangement is pleasing to the eye.The stability of the flower stems can be held in place with frog holders. These are holders which are placed on the bottom of the base to help give solid support for holding stems in place. These frogs are available in glass, plastic, and metal with round holes. The pin and hairpin style made from metal is also popular. Florists use dry foam bricks. Focal point is the center portion of the flower arrangement and from there the viewer will find a pleasurable rhythm of viewing the flowers.
3. Unity: The appropriate use of flowers for the occasion and the proper blending of colors and scale (or size). Flowers can be arranged in vases, baskets, wreaths, centerpieces, floral bouquets, and corsages.